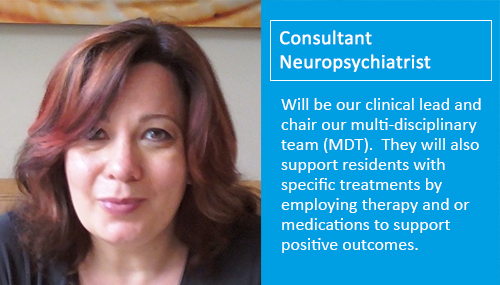 Dr Vanessa Raymont
Consultant Neuropsychiatrist
Dr Vanessa Raymont is a senior clinical research fellow at both the University of Oxford and University of Edinburgh and is an honorary senior lecturer at Imperial College London. She trained at Birmingham University and did her specialist training in both adult and old age psychiatry at the Institute of Psychiatry, London. She has a master's degree in Cognitive Neuropsychology from University College London, and has over 20 years of clinical and research experience in brain injury, dementia and memory disorders. She previously worked at the National Institutes of Health and Johns Hopkins University, USA. Her particular areas of interest are brain injury, dementia and other cognitive disorders.
Likes: live music, golf and films
Fun Fact: Vanessa used to sing in a band (only for fun!)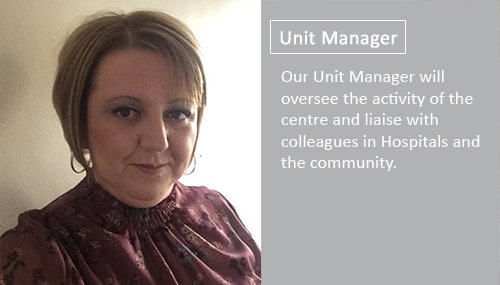 Tina Colley - Unit Manager
Tina Colley has 22 years' experience working in the care sector (including over a year at RCH), and has spent five years employed in the field of acquired brain injury. She has previously been actively involved in the opening of two other acquired brain injury units and relishes the opportunity in this appointment.
Tina completed a Diploma level course to become a Registered Nurse, however she chose to focus on Management and Training and has since gained an Education and Training Qualification.
Likes: Tina enjoys going to the theatre, reading, DIY and gardening.
Fun fact: Tina has an African Grey Parrot called Harry, who has learnt an array of words and whistles to keep her entertained!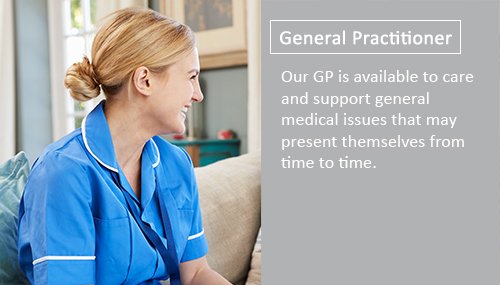 The De Parys Group
The De Parys Group is comprised of five GP surgeries in the Bedford area:
De Parys
Bromham
Goldington
Church Lane
Pemberley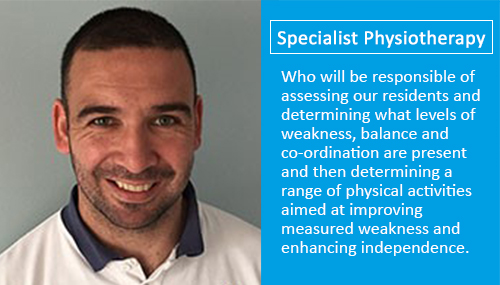 Guy Stewart - Specialist Physiotherapy
Guy is a Specialist Neurological Physiotherapist. He has extensive experience in inpatient clinical service as well as community and outreach services. Guy's specialist area is working in the area of neurological physiotherapy – inclusive of working with patients recovering from stroke, traumatic brain injury and other progressive neurological conditions. Guy utilises full client-specific neurological assessment to identify interventions, which are designed whenever possible with the client. Treatment aims often need to be developed from a combination of assessment led goals and the client's own goals and motivators.
Likes: Boxing and keeping fit
Fun Fact: When Guy's nan lived in Chicago, she knew Al Capone's brother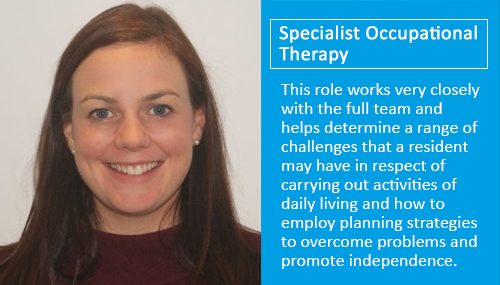 Mary McCarron
Specialist Occupational Therapy
Mary is an independent Neurological Occupational Therapist with over 13 years' experience and a Director at Connect Neurotherapy Services Ltd. She provides specialist assessment and treatment of neurological conditions including Acquired Brain Injury. She has extensive experience in assessment and treatment of independent living skills, vocational rehabilitation, cognitive assessment and rehabilitation, complex disability management (seating and upper limb splinting), clinical supervision, and service development.
Likes: Trail running, baking and spinning.
Fun Fact: Mary's sister was on the Great British Bake Off in 2018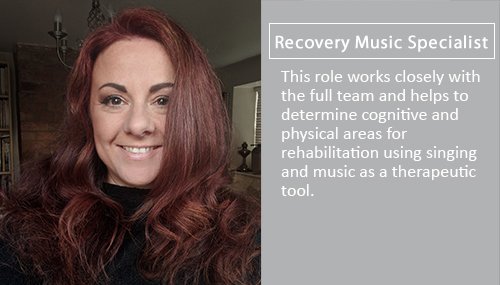 Sophie Garner - Recovery Music Specialist
Singing professionally since 1995, Sophie Garner has written and recorded for film, produced 4 studio albums, is a vocal coach for ITV's The Voice Kids, and runs various contemporary choirs and workshops focusing on singing for health and well-being.
Sophie's interest in singing as a therapeutic tool has led her to study for her Masters' degree, researching singing, music and its effects on the brain with a particular interest in stroke care. Through ongoing training, professional development and research in this specialist area, Sophie continues to develop and plans to continue her training with a PHD after completing her Masters.
Likes: films of the 1940s and 1950s, collecting vintage restaurant menus, afternoon tea, stationery addict
Fun fact: Sophie was the first artist to play the main stage at London's O2 Arena.
Rehabilitation Team – Fun Facts
Kelly (SRA): I have a Masters in Forensic Psychology, I like to find out as much as I can about the people I am looking after as this ensures I always provide a person centred approach. I have a tattoo of my foot on my toe!
Jeevan (SRA): I have a great sense of humour, every day is April Fool's for me! I like to motivate the team and ensure positive moral.
Katherine (SRA): I qualified as a Football Coach and was an Assistant Coach with my son's football team.
Harriet (SRA): I like to exercise regularly at my local gym. I would consider myself to be an excellent driver and particularly like to sing in the car to entertain fellow drivers on the road!!
Owen (RA): I have a caring nature and am very keen to learn from the Therapists.