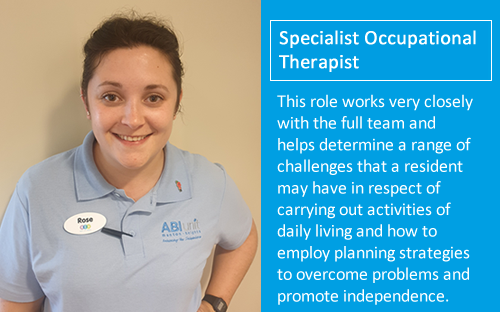 Rose Bradshaw - Specialist Occupational Therapy
Rose is the Specialist Neuro Occupational Therapist and Therapy Lead and has worked in neuro rehabilitation for the last 4 years. She is incredibly passionate about patient care and helping people to regain independence and achieve their goals through therapy. A large part of her role is supporting the person with the brain injury and also their nearest and dearest too. Her role is to provide high quality therapy and work alongside our rehab support staff to promote safety and independence.
3 likes: Loves all things craft, being by the sea, and good food and wine
Fun fact: Rose knows lots of Harry Potter trivia!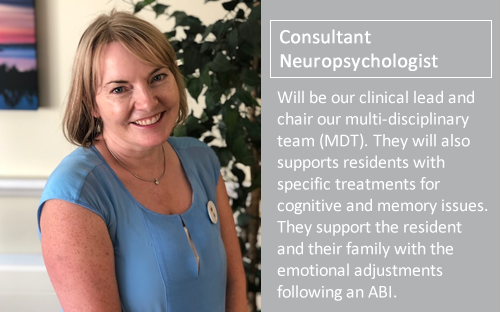 Dr Melanie Stevens - Consultant Neuropsychologist
Dr Melanie Stevens is a highly experienced and recognised Consultant Neuropsychologist having 18 years extensive experience in the assessment and treatment of complex psychological difficulties and neuropsychological issues.
Dr Stevens' work includes assessments of mental capacity, memory and cognition, and adjustment to the life changing injuries a brain injury can bring.
Dr Stevens has worked across many provider sectors including NHS, private independent providers and the MOD. Her scope of practice is from inpatient acute units, rehabilitation, schools, out patients and medical-legal assignments. She continues to represent at court in cases of mental capacity and trauma assessments.
Fun Facts: In her spare time Dr Stevens can be seen (and heard!) at either a Football match or a Rugby Union match.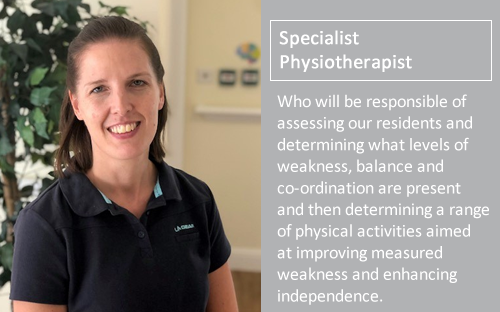 Soili Harju - Specialist Physiotherapist
Soili is a Bobath Trained Neurophysiotherapist from Finland, who completed her Physiotherapy training in Finland and graduated from Seinäjoki University of Applied Sciences in 2011.
She has worked in private neuro rehabilitation centres in England for the past 3+ years. Soili has experience working with patients including stroke, traumatic brain injury, spinal cord injury, Parkinson's Disease, multiple sclerosis, motor neuron disease, neuropathies, dystrophies, cerebral palsy, amputees and orthopaedic injuries.
She is passionate about her work feels that working in a multidisciplinary team such as we have at Manton Heights ABI Unit is a fantastic opportunity for her to put all her skills and training to good use for our service users and the service.
Fun Fact: Soili has swum in a hole in the ice…and loved it!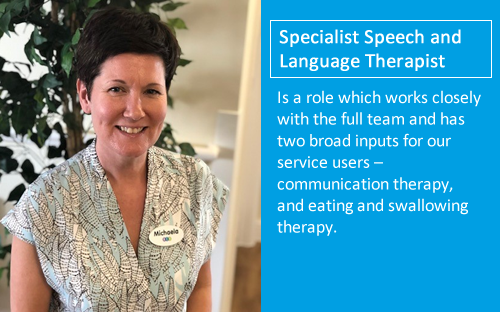 Michaela Emm-Evans - Specialist Speech and Language Therapist
Michaela has over 21 years of experience of working as a Speech and Language Therapist in the areas of neurorehabilitation and long-term neurological conditions, and worked in both inpatient settings and with people living in the community. She has extensive experience of working with adults with acquired brain injuries, stroke, challenging behaviour, mental health issues and swallowing difficulties.
Michaela is experienced in working with case managers and other members of a MDT, and strongly believes in working collaboratively to enable all individuals to reach their full potential.
Fun fact: Michaela once ran a marathon.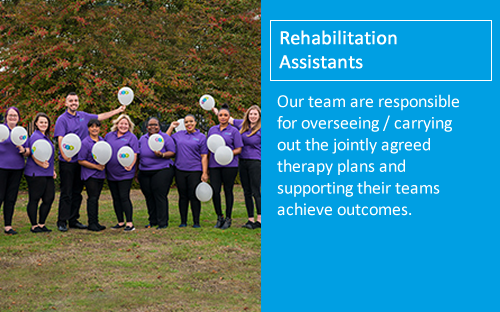 Rehabilitation Team – Fun Facts
Kelly (SRA): I have a Masters in Forensic Psychology, I like to find out as much as I can about the people I am looking after as this ensures I always provide a person centred approach. I have a tattoo of my foot on my toe!
Jeevan (SRA): I have a great sense of humour, every day is April Fool's for me! I like to motivate the team and ensure positive moral.
Katherine (SRA): I qualified as a Football Coach and was an Assistant Coach with my son's football team.
Harriet (SRA): I like to exercise regularly at my local gym. I would consider myself to be an excellent driver and particularly like to sing in the car to entertain fellow drivers on the road!!
Owen (RA): I have a caring nature and am very keen to learn from the Therapists.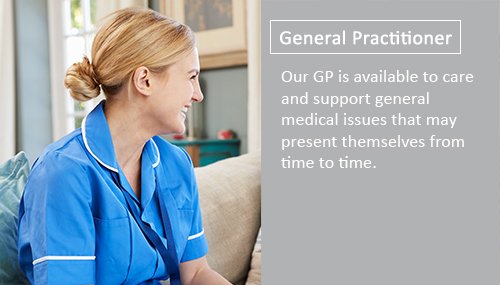 The De Parys Group
The De Parys Group is comprised of five GP surgeries in the Bedford area:
De Parys
Bromham
Goldington
Church Lane
Pemberley